Nightmare
To dream of being attacked with this hideous sensation, denotes wrangling and failure in business. For a young woman, this is a dream prophetic of disappointment and unmerited slights. It may also warn the dreamer to be careful of her health, and food.
  

Ten Thousand Dreams Interpreted, or "What's in a dream": a scientific and practical exposition; By Gustavus Hindman, 1910. For the open domain e-text see:
Guttenberg Project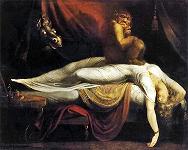 The Nightmare, Henry Fuseli, 1781 (The Detroit Institute of Arts, Detroit)
A frightening dream which causes strong unpleasant emotions, such as fear or horror, sensations of pain, falling, drowning or even death. Nightmares can be related to physiological causes (e.g. high fever) or to psychological ones, such as trauma or stress.
  

[…] I keep dreaming I am roasting in Hell, and the mailman is the devil eternally yelling at me, showering me with more bundles of letters at my head because I have not answered the old ones.
  

I don't use drugs, my dreams are frightening enough.
  

They've promised that dreams can come true - but forget to mention that nightmares are dreams, too.
  

He (Tolkien) is a great enough magician to tap our most common nightmares, daydreams and twilight fancies, but he never invented them either: he found them a place to live, a green alternative to each day's madness here in a poisoned world. We are raised to honor all the wrong explorers and discoverers - thieves planting flags, murderers carrying crosses. Let us at last praise the colonizers of dreams.
  

It is a good viewpoint to see the world as a dream. When you have something like a nightmare, you will wake up and tell yourself that it was only a dream. It is said that the world we live in is not a bit different from this.